by Colin Lloyd
Summary
Low cost manufacturing is moving away from China.
Malaysia, India, Thailand, Indonesia and Vietnam will continue to benefit.
Currency risks remain substantial.
Stock market valuations are not cheap but they offer long term value.
The MITI V is the latest acronym to emerge from the wordsmiths at Deloitte's. Malaysia, India, Thailand, Indonesia and Vietnam. All these countries have a competitive advantage over China in the manufacture of labor intensive commodity type products like apparel, toys, textiles and basic consumer electronics. According to Deloitte's 2016 Global Manufacturing Competitiveness Index they are either among, or destined to join, the top 15 most competitive countries in the world for manufacturing, by the end of the decade. Here is the Deliotte 2016 ranking: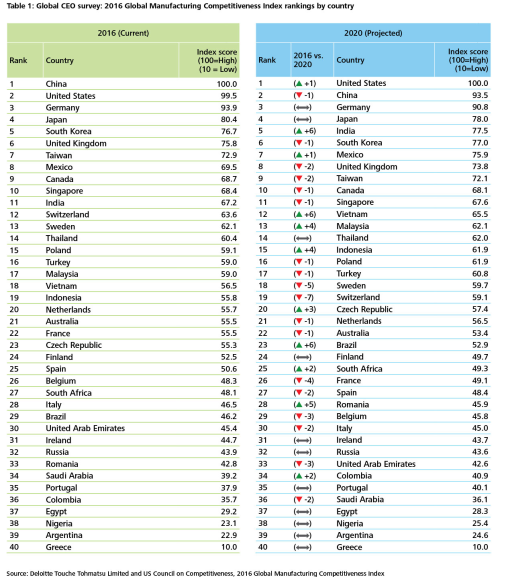 Source: Deliotte
The difficulty with grouping disparate countries together is that their differences are coalesced. Malaysia and Thailand are likely to excel in high to medium technology industries, their administrations are cognizant of the advantages of international trade. India, whilst it has enormous potential, both as an exporter and as a manufacturer for its vast domestic market, has, until recently, been less favorably disposed towards international trade and investment. Vietnam continues to benefit from its proximity to China. Indonesia, by contrast, has struggled with endemic corruption: its economy is decentralized and this vast country has major infrastructure challenges.
The table below is sorted by average earnings: