Singapore manufacturing suffers as labor costs surge.
by Michael Heath
South Korean workers' wages are rising faster than those of regional rivals, and the power of the nation's sprawling conglomerates, or chaebols, remains unchecked, highlighting a lack of serious economic reform. Yet manufacturing exports are booming.
Taiwan's labor costs are cheap, and its effective exchange rate far more competitive, yet overseas shipments have been flailing.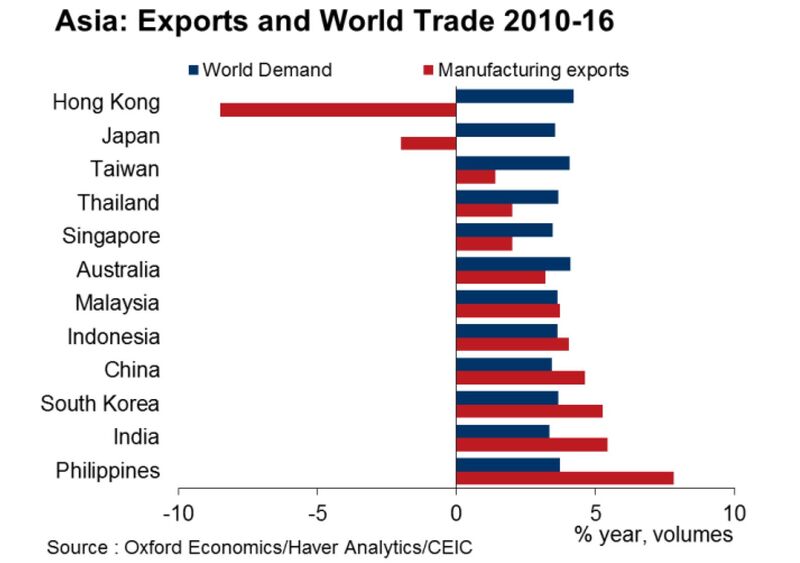 The divergence, set out in an Oxford Economics report, deepens given the similar export mixes of the two developed economies—indeed, an indicator of trade similarity stands at 0.67, high given that 1.0 represents an identical mix. The two also essentially ship goods to the same markets. Yet South Korean export volume surged 5.3 percent per annum from 2010 to 2016, compared with just 1.4 percent for Taiwan.
The difference, according to Oliver Salmon, a senior economist at Oxford Economics, is the extent to which South Korean companies have moved up the value chain and developed global brands, especially in the electronics and car manufacturing industries.
"Taiwan hosts many technologically sophisticated companies, especially in semiconductors and electronics, but few true global brands," Salmon said, contrasting Foxconn Technology Co. Ltd. with Samsung Electronics Co. "In part, this is because Taiwan is handicapped by its relatively low profile and uncertain status."
South Korea has also forged ahead with free-trade accords. Oxford Economics says that since signing a deal with the U.S., average tariffs have fallen to 0.4 percent in 2015 from 3.8 percent in 2011. That underpinned growth in merchandise exports to America of 3.4 percent a year in nominal dollar terms through 2016. In contrast, Taiwanese exports over the same period fell 1.7 percent a year.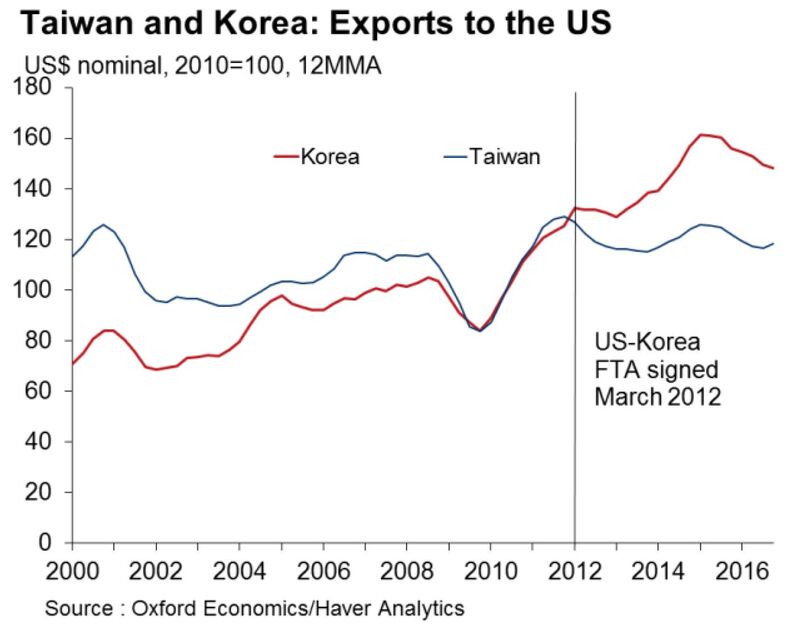 Taiwan was among the losers in Oxford Economics' survey of Asian economies' trading performances since the 2008 global financial crisis. Most in this category were relatively developed—Hong Kong, Japan, Thailand, and Singapore—and lost manufacturing to regional competitors as their costs climbed without offsetting gains in innovation or productivity.
Singapore was particularly hard hit. Its electronics exports have slumped by a third since 2010. Part of the explanation is stricter controls on migrant workers since 2010 that tightened the labor market and resulted in nominal wages in manufacturing surging 20 percent in dollar terms through 2015.  But while wages rose, productivity stagnated, resulting in unit labor costs climbing faster than in any other developed Asian economy in the Oxford  Economics survey.
Meanwhile, Malaysia and the Philippines have picked up the slack, spurred by cheaper production and increasing foreign investment. India, in turn, has benefited from cheap labor and a low base to work off.
Thailand has also struggled to adapt to increasing competition from regional rivals, particularly in labor-intensive manufacturing, with the emergence of the "CMLV group of economies in ASEAN," i.e. Cambodia, Myanmar, Laos, and Vietnam.
What of the future? Oxford Economics predicts world trade growth will accelerate to 3.5 percent this year and to 4 percent by 2020, which is still below the long-term average of almost 5 percent. As a result, competition for market share "will be fierce," it said, adding that medium-term forecasts of winners and losers in Asia should broadly mirror the recent past.
"The old adage may say that 'past performance is no indicator of future results,' but in this instance it might be," Salmon said.
www.bloomberg.com/news/articles/2017-03-27/the-strange-case-of-korea-and-taiwan-s-diverging-export-fortunes