by Eric Lam and Narae Kim
https://www.bloomberg.com/news/videos/2017-06-12/meet-japan-s-sunrise-stocks-video
A selloff in U.S. technology stocks foreshadows potential vulnerability in some of Asia's biggest equity markets, which have been just as dependent on the sector for gains this year.
The strain was showing Monday, as the Hang Seng and Kospi indexes both slid at least 1 percent. Technology giant Tencent Holdings Ltd., the biggest company by market value on the Hong Kong gauge, fell as much as 2.9 percent, while Samsung Electronics Co. tumbled as much as 2.1 percent in Seoul. Taiwan Semiconductor Manufacturing Co. dropped the most since December, leading wider losses on the island's stock exchange.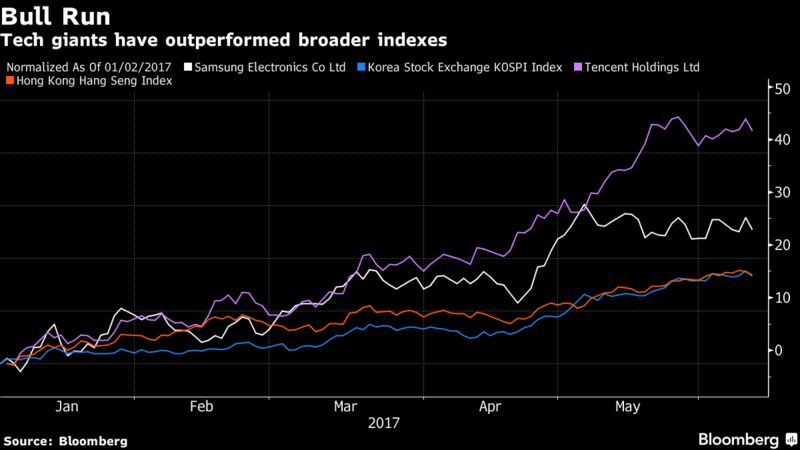 "Tech has been on a pretty meteoric rise year-to-date and frankly has hardly had any sort of correction," Andrew Cole, a senior investment manager with Pictet Asset Management Ltd., said in an interview in Hong Kong after appearing on Bloomberg TV. Pictet manages about $172 billion according to its website. "A correction strikes me as a very natural occurrence and inevitably hits the Nasdaq and it will have some spillover."
Friday's selloff saw the U.S. technology giants known collectively as FANG — Facebook Inc., Amazon.com Inc., Netflix Inc. and Google parent Alphabet Inc. — slump at least 3.2 percent. The move appeared to be triggered by a note from Robert Boroujerdi, Goldman Sachs Group Inc.'s global chief investment officer, warning low volatility may be blinding investors to risks. Short-seller Andrew Left of Citron Research also tweeted about "frenzied casino action" in graphics chip-maker Nvidia Corp.
Read more: Stock Bulls Tested as Nasdaq Rout Exposes Market's Vulnerability
Among major Asian equity markets, Hong Kong, South Korea and Taiwan seem the most vulnerable to the U.S. technology contagion.
Information technology stocks are the second-largest industry on the Hang Seng Index after financials. While both Tencent and HSBC Holdings Plc each account for a 10 percent weight, Tencent's market value of more than $330 billion is almost twice that of the bank. Tencent shares are up 42 percent this year, compared with the Hang Seng's 17 percent advance.
In South Korea, the almost $270-billion Samsung Electronics makes up a fifth of the Kospi Index. It is nearly 10 times larger than the next closest company, electronics components maker SK Hynix Inc. Samsung has also outperformed this year, rising 26 percent versus the benchmark's 16 percent climb.
Taiwan Semiconductor accounts for 18 percent of the Taiwan benchmark gauge. Its stock price, which has risen for eight straight years, is up 15 percent in 2017, beating the 9.5 percent advance in the Taiwan index.
The chipmaker and its peers including MediaTek Inc. and Advanced Semiconductor Engineering Inc. have recently begun tracking Apple again after underperforming for much of this year, further underlining correlations between markets.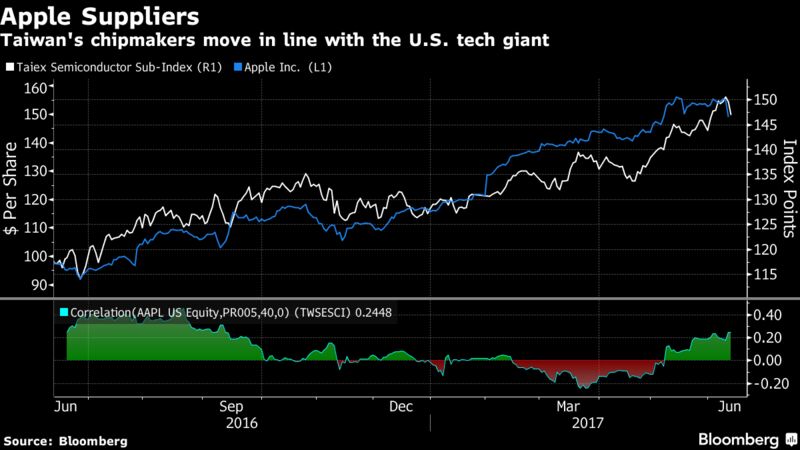 Pictet's Cole said his multi-asset team's exposure to technology stocks is largely in robotics and the digital economy, including significant U.S. exposure. He would consider adding some positions on weakness.
"Is it the end of the bull run this year? Time will tell but my guess is no," he said.