Economy expanded 5.1% y/y in first quarter, estimate was 6.25%

Industrial output rose 3.85%, smallest growth since 2011
Vietnam's economy grew at a slower pace than economists estimated in the first quarter as industrial output eased and Samsung Electronics Co. cut production of smartphones.
Key Points
Gross domestic product rose 5.1 percent from a year earlier, the General Statistics Office said in Hanoi Wednesday. That was lower than all eight forecasts from economists in a Bloomberg survey and below the median estimate of 6.25 percent
GDP expanded 6.68 percent in the fourth quarter of 2016, according to previouslyreported data
A drop in Samsung's output in Vietnam contributed to a 10.7 percent contraction in exports of phones and parts, dragging down electronics production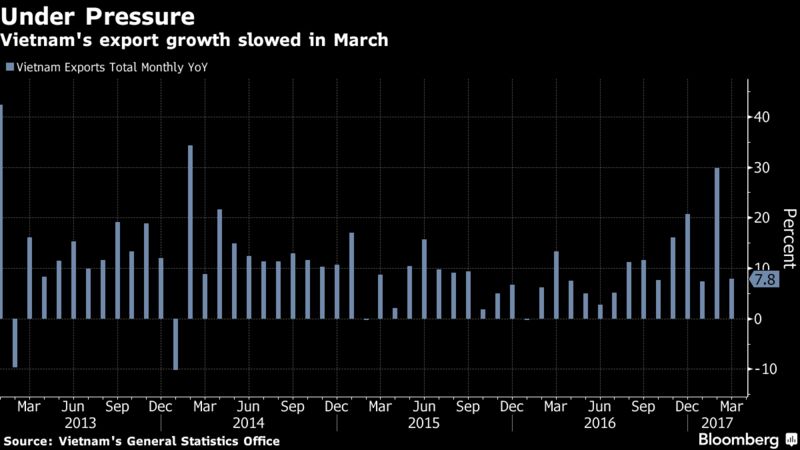 Big Picture
Vietnam outperformed most of its Southeast Asian peers last year as export growthremained resilient. The economy has become a manufacturing hub for companies such as Samsung, which is Vietnam's biggest exporter, accounting for about 20 percent of the nation's shipments. Samsung took the dramatic step in October to end production of its Galaxy Note 7 smartphone, a decision that businesses said at the time would hurt the economy.
Global trade risks are also mounting, with Vietnam among the countries in Asia most vulnerable to a rise in protectionism in the U.S. The government is increasing spending on infrastructure to retain its role as a top investment destination in Southeast Asia as others like the Philippines catches up. The World Bank forecasts Vietnam's economy will expand more than 6 percent this year and next, among the fastest in the world.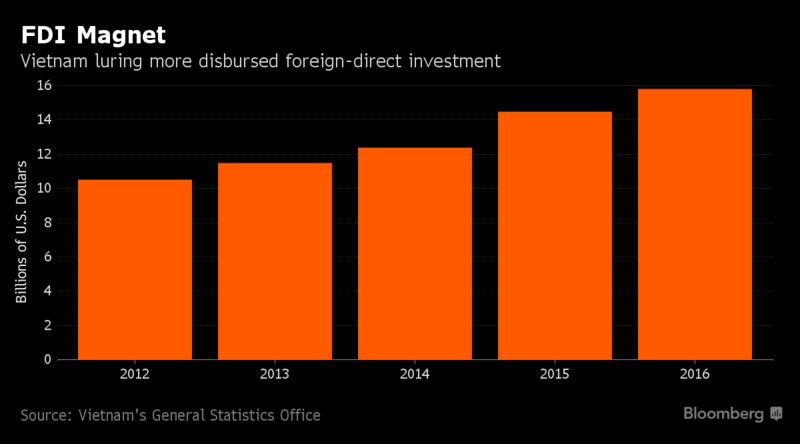 Experts' Takeaways
"The upshot is that we expect GDP growth in Vietnam to accelerate in 2017," Gareth Leather, a senior Asia economist at Capital Economics Ltd. in London, said in a report. "There are some factors that should help to support growth this year," he said, citing a recovery in agricultural output, loose monetary conditions and a strong export sector.
"5.1 percent growth for this quarter is slower than the pace at the same time in previous years and there are signs showing that it will very challenging for Vietnam to meet the government's 6.7 percent full-year target," Nguyen Bich Lam, head of General Statistics Office, told reporters. We are working
Other Details
Manufacturing gained 8.3 percent in the first quarter from a year earlier
Exports rose 12.8 percent in the first quarter, imports gained 22.4 percent
Exports of telephones and parts plunged 24.4 percent in March from a year earlier, the second month of contraction
Retail sales rose 9.2 percent in the quarter
Consumer prices rose 4.7 percent in March from a year ago, compared with a median estimate of 4.8 percent in a Bloomberg survey of five economists